How Brands Are Giving Back to the Medical Community During the Pandemic
As COVID-19 continues to surge in the United States, the necessity to support healthcare workers at the forefront of this pandemic is as important as ever. With the demand for supplies failing to wane, brands have stepped up in creative ways, using critical resources to fill the needs of these workers. New York City's tenure as the epicenter of the crisis has lessened in recent weeks. Still, it originally bore the brunt of the pandemic, and the business community stepped up to help bolster the medical community in many different ways.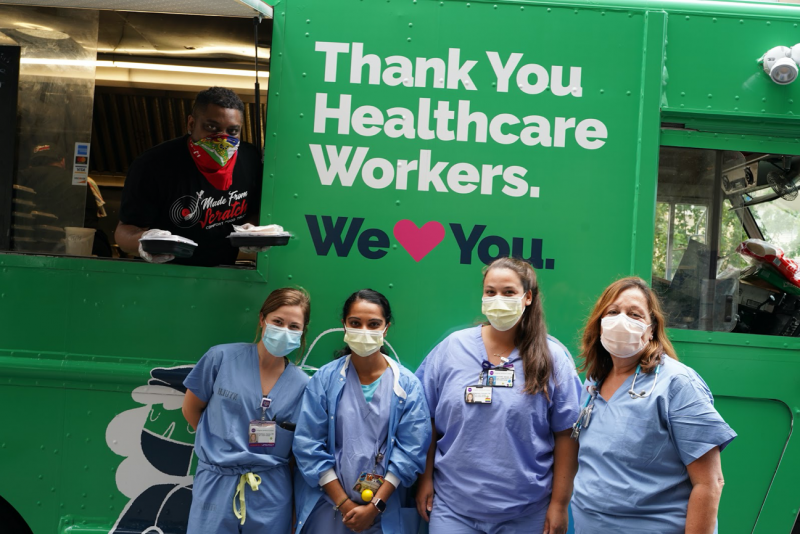 How Businesses Are Supporting the Medical Community During COVID-19:
1. PPE & Healthcare Apparel
From shoes to scrubs to PPE and more, medical teams need quality products to do their job. Nike has taken action in the fight against the pandemic by donating 30,000 pairs of their Air Zoom Pulse shoes—specifically designed for healthcare workers—to hospitals across the country. Medical teams in New York City and Los Angeles received an additional 95,000 pairs of compression soccer socks. Beyond donations, Nike has also provided a 20% discount for medical staff and first responders in the U.S.
For masks, in particular, a variety of initiatives have arisen to meet the demand for this essential tool in the pandemic. The 9/11 Memorial & Museum devised a one-for-one distribution partnership with Tunnel to Towers, providing a mask to essential workers for every one of their masks sold. Retails brands such as Gap, Inc., Citizens of Humanity, Revolve, and more have also either created similar mask-matching initiatives on their websites or donated hundreds of thousands of PPE to medical teams across the country.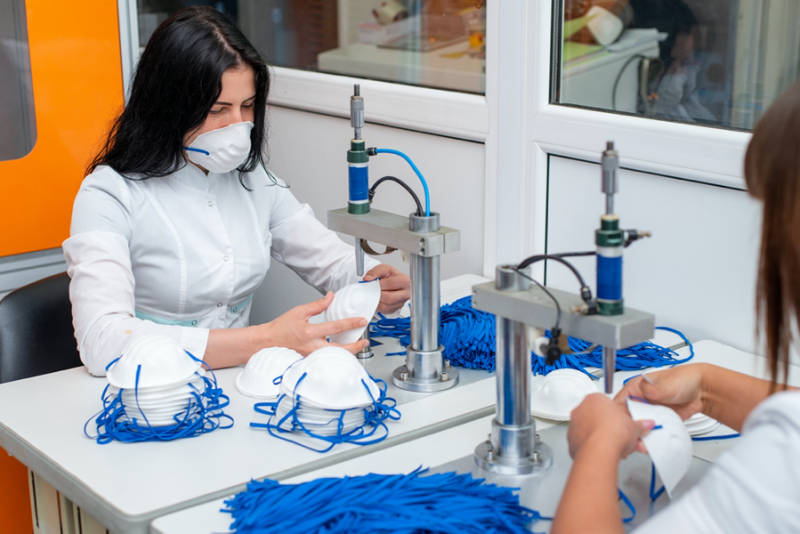 2. Hand Sanitizer
In one of the most fascinating acts of services to the community, many perfume retailers, breweries, and distilleries have used their factories to combat the shortage of hand sanitizer around the world. Internationally, LVMH, parent company to the likes of luxury brands Christian Dior, Givenchy, and Guerlain, converted fragrance factories into hand sanitizer producers for the French hospital system at no charge. In the states, distilleries such as Rabbit Hole (Kentucky), Smooth Ambler (West Virginia), and TX Whiskey (Texas) all provided similar services to their community.
3. Accommodation
One of the most substantial obstacles for healthcare providers during COVID-19 is minimizing risk for their families when they're off the clock. For many workers, this risk has meant staying in hotels near the hospital to minimize exposure. Many hotel chains have taken initiative to support the medical community during this crisis.
Marriott Hotels has collaborated with the American College of Emergency Physicians and the Emergency Nurses Association to provide free rooms to doctors and nurses in high-risk areas, like New York City, New Orleans, Los Angeles, and other epicenters nationwide. For other areas of the country, the Caribbean, and Latin America, hotel chains have partnered with the Community Caregiver Program to offer significantly discounted rates to first responders and healthcare professionals.
In NYC, there was a particular need for hotel accommodations during the height of the city emergency. The Four Seasons Hotel, St. Regis, The Plaza Hotel, Yotel, and Wythe Hotel all offered room and board for those working in nearby hospitals to offset the ever-growing demand.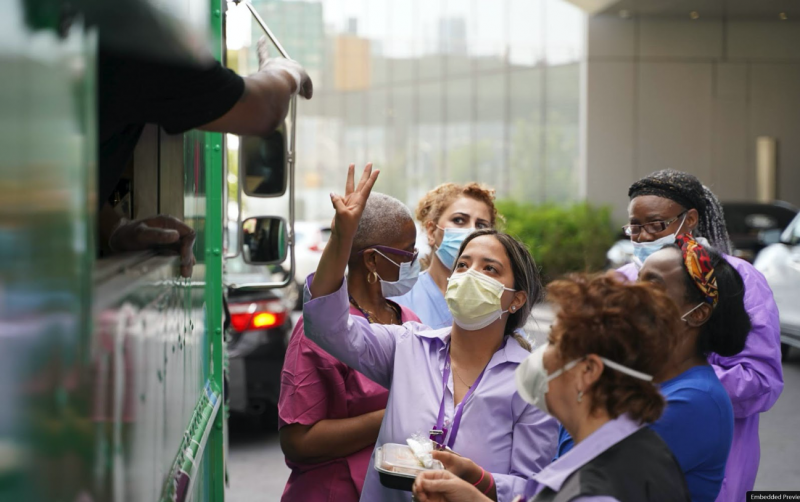 4. Meals
At the height of cases in the five boroughs, medical staff barely had time to care for themselves while caring for others. For many companies, providing a quality meal for hospitals around the city filled an essential need during workers' hectic days.
Local restaurants, such as Brooklyn Chop House, Beyond Sushi, Kissaki, Poulette, Kaia Wine Bar, and many more have used their kitchens to cook meals for healthcare workers. Many of these restaurants have depended on donations for local patrons; Junzi Kitchen, for example, has a $10 "share a meal" option for takeout and delivery that donates a lunch or dinner to a local hospital for every purchase.
Companies outside the restaurant industry are also teaming up with organizations to feed local hospitals. New York Interconnect (NYI) partnered with Made from Scratch NYC to launch a Southern Comfort food truck; in June, it visited five hospitals in the city – feeding over 1,500 medical workers –  as a thank you for their work.
As a New York-based organization, the team at NYI understood firsthand how COVID-19 impacted the city and its people. Ed Renicker, CEO of NYI explained that, given the sacrifices of our local medical community, he felt it was NYI's responsibility to give back to those on the front lines. "It was impossible to be in New York at the height of the pandemic hitting our city and not feel compelled to do something, "said Renicker. Everyone at NYI wanted to show our appreciation and thought it would be helpful to provide the healthcare workers with a good meal, cold drinks, and plenty of well-deserved gratitude."
5. Local News Support
As the local voices in the New York market, News 12 and Spectrum News NY1 have also used their platforms to highlight the efforts of everyday heroes during the pandemic. Each week, News 12 has Thank You promos sent in by viewers to give a shout out to essential workers—from delivery drivers to sanitation workers and medical staff. Viewers can also nominate their Hometown Heroes, which results in a special feature on those making a particular difference in their neighborhood during the COVID-19 crisis. As 7 p.m. cheers for essential workers roar through the city, so too does the 7 p.m. salute display on News 12 in support of their work and sacrifice.
NY1 also features the best of the five boroughs with "Acts of Kindness" with Kristen Shaughnessy: a wrap-up of stories about Good Samaritans helping our community. Cheryl Wills hosts "Messages of Support," which allows viewers to shout out senior family and friends in nursing homes and other facilities isolated by the pandemic. By maximizing their local angle during this challenging period, local news in New York continues to inform and uplift the overall community with segments featuring its most inspiring heroes.